By the age of 21, Marc Savard had appeared in over 200 stage shows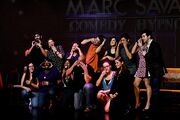 internationally. Now, he permanently resides at the V Theater inside the Miracle Mile Shops. With his raunchy humor and witty comedic routine, Savard manages to tickle the entire audience's funny bone. 
The show starts with Marc introducing himself, and explaining a bit about how hypnosis works. He then asks audience members to volunteer themselves to come up on stage, usually cutting off the volunteer crowd at about 30. The shows then proceeds into the elimination section, where Marc begins the hypnosis process, picking which audience member is not succomb to the hypnosis for the show. 
Once Marc has his selection (usually about 10), the show truly begins. Starting with a basic "It's getting really hot/cold" stunt, the hilarity continues with river dancing audience members, to porn-star wanna be's, with nothing less than ridiculous behavior in between.
Marc Savard Comedy Hypnosis is also cross promotes with Stripper 101 , where guests can purchase a VIP Stripper 101 ticket and receive a voucher to watch Marc Savard and his comical antics.
Part of the David Saxe Productions line up.
Information
Edit
Nightly at 10:00pm at the V Theater, inside the Miracle Mile Shops. Dark Friday.
Recommended for 18 yrs+
Community content is available under
CC-BY-SA
unless otherwise noted.